slef-reflections, Year 6, continued

This page will be where my date-related short comments appear, newest first. Earlier comments are on another page.
Annoying Judge Resurrects Software Patents in the UK
Posted by mjr 2008-03-23 (permalink)
Programs themselves cannot be patented. They're explanations of mathematical relationships, not inventions.
Paul Russell mentioned this ruling to me and Alex Hudson mentioned it to fsfe- uk. There's been some BBC coverage and very silly coverage in Computing which summarises it as as
"Symbian's win could benefit UK software makers"
You what? Shouldn't we be enabling other UK companies to compete in a free market with Symbian, which is a consortium of foreign companies after all, instead of granting Symbian a monopoly here? fume
Comment form for non-frame browsers.
Comments are moderated (damn spammers) but almost anything sensible gets approved (albeit eventually). If you give a web address, I'll link it. I won't publish your email address unless you ask me to, but I'll email you a link when the comment is posted, or the reason why it's not posted.
UEA rebrands itself as IE+1
Posted by mjr 2008-03-04 (permalink)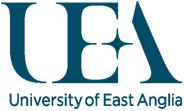 I was a bit surprised when a letter from UEA arrived with a new logo on it. It looks like someone turned up the brightness until the thin parts of the letters started to vanish. IE+1? What's that then?
There's confirmation on UEA's wikipedia page which includes the above logo. Ironically, the letter I got looks like it doesn't conform to the linked guidelines.
I think this change weakens UEA's links with its alumni a bit, don't you? The old logo was everywhere while I was there. I'm going to miss the square logo with rounded reflex blue letters. Maybe I should stock up on UEA mugs, although a gold-on-blue UEA mug looks a bit wrong.
This is copyright 2008 MJ Ray. See fuller notice on front page.