Cycling in K.Lynn

Compared with when I first moved here, the cycle routes are now vastly improved. Norfolk County Council have put a lot of thought into them, as well as some money.
"Travelwise" maps of the local cycle routes are available from Borough Council offices. The cover of the current edition is mostly purple (and the previous was white). They show the cycle parking in the town centre that I have some notes on.
Network of local routes
In additional to National Cycle Network Route 1 running through the town (with a need to dismount through a pedestrian section!), the local cycle routes include some fairly fast ones. I think these could be linked into longer routes connecting the town. According to sustrans regional route information sheet, Norfolk can use Regional Route numbers 30-39 as it wishes. I suggest allocating two to King's Lynn: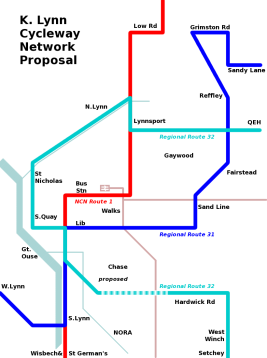 NE-Centre-West route:

Sandy Lane, Reffley (no through road for motor vehicles)
Barsham Drive (road)
Langley Road (road)
Grimston Road (road||track)
Reffley School Path (track)
Elsing Drive (road)
Reffley Cycle Path (track)
Spring Lane (track)
Fairstead (track, road, track)
Sand Line Bridge (track)
Rollesby Road (road, track)
Extons Place (road)
Avenue Road (road)
Extension Walk (track)
Broad Walk (track)
Millfleet (road)
Stonegate Street (road)
(NCN Route 1 to Freebridge) (mixed)
Freebridge (road||track)
Clenchwarton Road (road||track)

SE-centre-East route:

Oakwood Corner (road||track)
Main Road, West Winch (road||track)
Hardwick Road (road||track)
Wisbech Road (road||track)
Hardings Way (track)
(NCN Route 1 to Bridge Street) (mixed)
Boal Street (road)
South Quay (road||track)
King Street (road)
Market Lane (no through road for motor vehicles)
Chapel Street (road)
St Ann's Street (road)
North Street (road)
John Kennedy Road (road)
Bawsey Drain Path (track)
Front Way (road)
(NCN Route 1 to Salters Road) (track)
Salters Road (road)
River Lane (road)
Gayton Road (road||track)
The benefits of these routes are that they are dismount-free and mostly free from obstructions, cover all major destinations and alternate in their approaches to the town centre.
Clark's Dyke link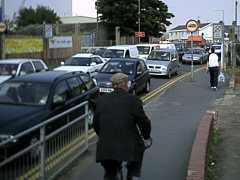 There's a dangerous stretch on the Nar-North route above. As it leaves town, cyclists are asked to ride on an 'A' road with two tight lanes of cars heading each way, often queuing. See the picture for a typical Friday lunchtime view showing two lanes queued each way at times and HGVs routinely ignore the rarely-enforced ban. Unsurprisingly, cyclists already use the paths most of the time. I estimate it would need three signs and four road markings to avoid this, as shown in this drawing (PNG) (also in this PDF), assuming the crossing upgrade can be put off until later.
I've suggested it to the County Council and will see who will support it. Update: drawings MMP1691-MMPT-001 and 002 are in the Borough Council Planning Office. It's a much more complete link than my suggestion. It extends all the way to Norfolk Street, which would be ideal. However, the contractor says "at the moment this is only a feasibility study" so I hope the size of the scheme doesn't delay the basic link!
Cycling Farcilities: Norfolk's Bad Sign Habit
Despite the generally good network and the adverts for "King's Lynn - a cyclist's dream", there are a few problems with town cycle tracks. Norfolk County Council are a bit too keen on two signs: "Cyclists Dismount" and "End of Route". Sadly, it's common to find these half-way along cycle routes and at other plainly absurd locations, causing confusion and disrespect for them when they are used well.
St James Lights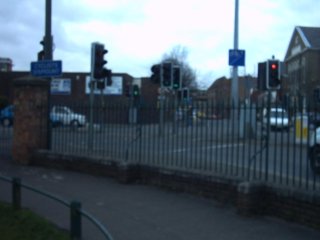 I use the stations loop route a lot and the sign confusion is terrible for such a short route. This one's at the crossroads by St James Swimming Pool, on the southern side of the loop. Sorry if the pic is too dark for you: no matter where I stand, some of the lights shine at my camera and confuse it - amazingly, there are 8 sets of lamps facing me, which might be confusing enough for some people.
The cycle track runs in front of the wall from right to left, round the pillar at the end, crosses the roads in two parts and joins a cycle lane in Blackfriars Street straight ahead. The three traffic lights nearest the centre of this view are cycle-shaped and you might spot the cycle lane sign up the lamppost on the right. But, behold! What's that above the pillar? Why, it's a "Cyclists Dismount"! No cycling across at the cycle lights, OK? Surely a farcility.
Fix: Remove the dismount, correct the road markings and put some positive directions for cyclists leaving Blackfriars Street, sending them to Waterloo Street. The town centre loop is scheduled for improvement. Email colin.rope at mottmac.com with comments.
Market Lane Parking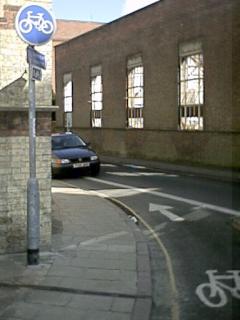 This is on the northern side of the loop, but it isn't a sign problem. Cars and vans often park in the Market Lane contraflow cycle lane and put cyclists into oncoming traffic. Admittedly, it's a quiet street, but there are enough car parks available nearby: there are two multi-storeys within about 100m of this street! It seems so inconsiderate to park on the National Cycle Network 1/11. If you park there, I hope you get towed.
Fix it by enforcing the cycle lane! For a real fix, close the road to cars.
Rail Station Dismount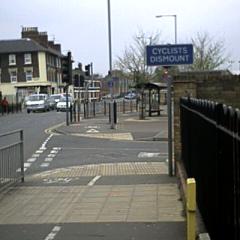 On the east of the loop, cyclists are signed in both directions along a narrow segregated path for about 10 or 20 metres, to give a shorter route to the station from the Walks. This photo looks north across the station front, towards the Blackfriars Road road-side cycle track. St John's Church is behind us. The loop route joins from the left, across the traffic lights.
The problem here is yet another Cyclists Dismount sign on the right there. At this point, you're riding from a narrow path to a wide one and you can see more clearly in this direction than the opposite one, which is busier.
Why is this sign there? Maybe it's leftover from when this was the end of route, but then I'd expect to see "End of Route" too (another Norfolk favourite).
Fix it by removing the sign. For a real fix, give the cycle track priority over the car park access, like it should be.
Reffley (end of) Route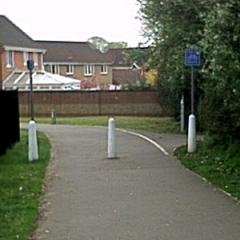 Leaving the town centre loop (as I do sometimes!), here's a farce on the Reffley cycle track that illustrates Norfolk's "end of route" mania. In the photo, the path continues south, bending left before joining a small estate road. On the right side of the path is a square "End of Route". A metre or two after that, there's a double-sided round "shared path" sign on the left. The route actually continues all the way to the Hardwick Road industrial area, about 2 miles further on. As far as I can remember, this route never ended here. Confused? This sort of thing happens all over the town.
The fix is obvious: remove the post with "End of Route" on it. Well done for keeping most of the bollards out of the byway, though!
Hardwick Road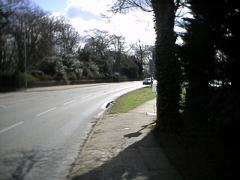 Finally, here's a different "End of Route" farce from Hardwick Road. When the South Gates roundabout was rebuilt, cycle tracks were added around the outside, crossing at the islands, and running a short way up each road. The top photo is taken after leaving the roundabout along the south side of Hardwick Road and having crossed the lorry park access. There's no drop kerb and no change in surface, so you'd think the cycle track is continuing onwards. Or, you would until you hit parked cars and no drop kerbs at the end of the next gentle downhill straight.
Notice the thin shadow beside the shadow of the leftmost tree? That's the "end of route" sign! On its reverse is the "shared path" sign shown in the second shot.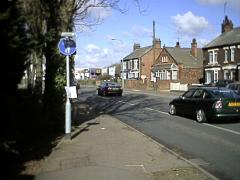 At this point, cyclists are expected to see through a mature tree, bump down a kerb and cross three lanes to rejoin the road. Farcical!
Fix it by extending the cycle track to Horsley's turn or putting a drop kerb and island to let cyclists join the forthcoming track along the north side of Hardwick Road. Oh, and promise never to hide a sign behind a tree again!
Fixed Farcilities
The Hardwick Road (A149 to Hansa Road) cycle track has stopped the north end of the Oakwood Corner cycle route crossing seven lanes of traffic near two major HGV junctions. Unsurprisingly, illegal manoeuvers were common here as cyclists tried to avoid the absurdly dangerous official access to the cycle track. Cyclists can now continue along the south side of Hardwick Road and cross safely at a multi-stage Toucan crossing. There are a few road-track junction irregularities to iron out, but it's a big improvement. Eventually, it will reach Beech Road at the town centre end. Please email lorna.page at norfolk.gov.uk, support it and ask for it to connect to the South Gates cycle tracks and York Road.
Other farcilities
Cycling groups active locally
Sustrans (National Cycle Network authority)
Cross-council Cycle Forum meets next in King's Court on 24 February
Company of Cyclists sometimes runs events in the region
Other useful links
---
6 Apr 2006, MJR