Compared with when I first moved here, the cycle routes are now vastly improved. Norfolk County Council have built quite a lot of routes, although they still sometimes screw up and propose bloopers.
Maps of the local cycle routes are best got online and are linked from the King's Lynn & West Norfolk Bicycle User Group website.
Manifesto: Take Cycling Seriously
What we (King's Lynn & West Norfolk Bicycle User Group and CTC the National Cycling Charity) want from Norfolk's councils, police, and so on is:
A SMART Strategy: Simple, Measurable, Attainable, Realistic, Time-limited goals, with identification of core routes and the same £10 per person for cycling that Norwich now gets;
Secure Covered Cycle Parking: at key destinations throughout the town;
Cycle Training: to national stanards, at all schools and for adults;
It's time for Norfolk to catch up with the rest of the country and commit to a modern, forward-looking transport system with cycling at its heart. More people cycling mean faster journeys, a healthier town, lower emissions and a safer environment for all. Investment in cycling even benefits non-cycling drivers by cutting congestion that holds up those who still need to drive.
Why Don't People Use Cycle Paths?
We do. Just not all of them. Usually, if a cycle path isn't used, then it's one or more of:
Slow
Inconvenient
Unsafe (I write more on safety on another page)
I wrote this because someone asked "y do the council spend thousands of tax payers money on cycle paths when u dnt use them?"
My answer was: "it beats me. Why don't you ask councils why they keep wasting money building substandard cycle paths?"
In more detail:
Slow: I'm more than 15% slower on the best cycle path I've used in Norfolk than the road next to it (the A10 between Chequers Lane and Setch Road). The surface just isn't as good. Even when it's brand new and as smooth as it gets (Hardwick Road south side), cycle paths seem to use a "draggier" material than most roads.
And very few cycle paths are smooth. They're usually lumpy as heck, which is really uncomfortable. Norfolk County Council will patch a road when there's a 40mm pothole, but won't resurface a cycle path until 30% of its area is covered with 20mm cracks - and if it's beside a rural road, only "when potentially dangerous"! (Source: section 3 of Norfolk's Transport Asset Management Plan (NTAMP))
Even if it's not potholed, some cycle ways dip sharply for every driveway and make you feel almost sea-sick if you ride across at even a fairly gentle speed.
Just in case bad surfaces and potholes aren't enough to deter you, cycle paths are also not gritted or swept for leaves and glass, so frequently you have to slow down even further. Actually, section 5.8.6 of NTAMP says they're gritted "as resources permit" - which is never, as the council is cutting millions from its budget - while sections 5.2.9 and 5.3.9 fail to require anyone to sweep cycleways, so they never get swept now!
Remember that cars have four 185mm-wide 30psi tyres, while bicycles have two 30mm wide 100psi tyres - so why does the vehicle with narrower higher-pressure tyres get the worse surface? This seems backwards!
To put this in context, 15% (the best case) is about the difference between 60mph and 70mph. If you're driving, all else being equal, would you pick the 60mph lane or the 70mph lane? The only time you'd use the 60mph lane would be when you're not capable of exceeding 60mph (carrying large loads, have a "slow engine", or similar). Many riders can exceed the top speed of Norfolk cycle tracks.
It's not just about speed, but this is beyond a joke. Combining the bad surfaces and poor maintenance, most cycle paths are more like 30-50% slower and a lot less comfortable than the roads right next to them. Would you choose to have every journey take twice as long? So if there's a road nearby, people are probably going to ride on it instead.
Inconvenient: imagine a sliproad onto a dual-carriageway. Now imagine that users of the main carriageway have to give way to traffic coming down the sliproad and are expected to look back over their shoulder for them. It would be absurdly hazardous. Big expensive road junctions are built to avoid this sort of junction (the M6 merge into the M6 Toll, for example), but that's pretty much the situation every time a roadside cycle path crosses a side road. It's an incredibly dangerous layout.
National guidance is quite clear that cycle paths should have priority over most side roads, but Norfolk rarely complies: in one famous example, we have to give way to the entrance to a closed cemetary, complete with bumpy kerbs. Also, even where priority is clearly marked, there's always an occasional bad driver that ignores it.
Sometimes, there are metal fences to crash into while you're looking over your shoulder - or you could stop at every side road, which is equivalent to another 100 metres of travel every time.
Finally, all the extra distance on the stop-start wiggly cycle tracks soon adds up. Often, a cycle route does three sides of a square to avoid something that the road goes straight over. If you were riding, would you choose to travel further, on a slower surface with more hazards - or would you just ride on the road?
Unsafe: most of the things in the previous section also make cycle paths less safe, but there are a few cycle paths that are so hazardous that I ride on quite nasty roads to avoid them. I recorded a video of the dangerous Hardwick Roundabout cycle track where mis-installed "tramline" tiles push cycles towards brambles, fences, lampposts and a tree. That's an extreme example, but it's quite common for lampposts and signposts to be put inside a cycle path - that never happens on the road, so if you want to be sure there's not going to be a post in your way, you ride on the road. There are also rare examples of vandalism like a rope tied across a path, which are ineffective on a road.
If a car crashes, it often just dents a bumper or body panel, plus it usually destroys the unsafe obstruction. Even quite severe crashes can leave the driver unharmed, thanks to modern airbags and so on. If a bike crashes, it's easier to render the vehicle unusable while the obstruction remains to catch its next victim - and in extreme cases, the rider doesn't have airbags to protect them (and bike helmets are designed to protect against falling off your bike, not serious collisions - more personal summary). Why does the more vulnerable road user get the less safe lane? This seems backwards!
A lesser problem is that almost all cycle paths are shared with walkers and sometimes there are enough people that's it's not really safe to cycle through them, except very very slowly. That's OK - it's good to see people walking - but I hope you'll understand if I use the quieter road beside it.
There is a school of thought that you play Russian roulette on sidepaths (cycle paths alongside roads) because of a large increased risk when they cross side roads, even when they take priority, as they do in most of Europe but usually don't in Norfolk. I'm not sure if it's quite as bad, but what makes the junctions inconvenient probably make them unsafe too. (I've more thoughts about this)
Some cycle paths are useful, especially when they're a fairly direct route away from roads - but drivers won't see us using those ones anyway. I do want better cycle paths because it would open cycling to more people and reduce congestion in our towns and villages, but I think it's easy to see why many people won't use the ones we've got at the moment.
Even with the above problems, it's still often quicker and/or easier by bike. It's just even easier if you ride on good roads instead of rough cycle paths much of the time.
The Milton Keynes redway system is a special case which I've written more about.
Lynnsport New Access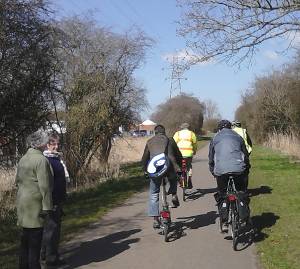 What follows is an out of date description, from 2013: please see latest details of the Lynnsport Northern Access Road NCN1/EV12/NSCR on cyclescape.
I'm asking people to help me defend the Sandringham Railway Path, which is the main cycle route from Lynn town centre to the north. The councils are trying to sneak through plans to turn part of it into a fast 30mph drag strip of a road, open to all traffic. You can see the current route on OpenStreetMap and a sketch map of the proposal is on this page. As far as we can ascertain, this is the only section of the National Cycle Network under threat from such downgrading. To proceed with this scheme would set a precedent which could have national implications.
Blue
Current Route

Yellow
Proposed Cycle Route

Dark Red
Proposed Road Route

Bright Red
Proposed Bad Crossings

Green
Better Alternative Route

Pink
Proposed Housing

The last round seems was that it went to Norfolk and Suffolk Local Transport Body on Friday 26 July at 3.30pm for consideration for shortlisting. It didn't even appear on the long list, so at least one question has asked the LTB to delay consideration. I'm asking them to outright reject it. (Update 12 August: I went to the meeting but they didn't answer the public questions. We're still waiting for replies to questions, but it seems like the project was included in the approved shortlist.) (Update 1 October: We've got replies and they're no good. I'll update the rest of this later.)
I'll try to summarise the many problems: the proposed diversion of the railway path is onto a lumpy drain bank (in yellow on the map extract here), with two new road crossings on bends (highlighted in bright red) - and road crossings are by far the most dangerous part of any cycle path, as well as each stop being equivalent to another 100m of distance. Meanwhile, a new road (dark red on the map) would steal the current path route, including ripping out the mature hedge (on the right of the photo above) which is older than the 1862 railway and probably supports some interesting (protected?) wildlife.
If you want to feel how much worse a drain bank is, go ride the path from town end of Loke Road. It'll be a poor substitute for the current wide, straight, fairly flat, crossing-free railway path.
Some have claimed the new cycle track is "dedicated" to cyclists - but walkers usually prefer to use a path that is further from the road and who's going to stop them anyway? We've seen that repeatedly, such as at the Hardwick junction, where the two paths are even labelled bikes-only and pedestrians- only and pedestrians use the bike one because it's further from the road. That's fine - I'm happy to share - but the path needs to be built wide enough to handle the current traffic, plus that from the new developments, so probably 4 metres.
Lynnsport probably needs to do something. None of the three current Lynnsport car park accesses (Greenpark Avenue, Beulah Street, Front Way) is perfect but opening access to the north will probably just move a tiny fraction of traffic from the A148 past Highgate School to going past St Edmunds School, so that seems like a red herring.
Equally, I don't see a new road removing traffic from the Gaywood Clock air quality action zone: traffic from the north can already reach a Lynnsport car park along Beulah Street, but some of the traffic currently entering Lynnsport from the south will drive around to the new road, either through that zone or the town centre zone, and the shape of the coast means there's more of the town and everything else to the south than the north.
Anyway, if we want to reduce vehicles past all sorts of things, shouldn't the councils be keeping it easy for people to reach Lynnsport without cars? Opening the former bus road (highlighted in green on the map extract) seems like a good compromise if they want to increase access from the north. Why is it walkers and riders who get our only non-car route downgraded, yet again?
(Already in NCN1 in town, we suffered buses getting put on Harding's Way with occasional conflicts and the police sometimes opening it to cars.)
The road could connect to new developments, but two of the three connections to the development area on the last (rejected) plan were from Front Way in North Lynn and not the stolen bit of railway path. One bit of land is in between the two pieces of Marsh Lane and the other is the northern edge of the Lynnsport playing fields, highlighted in pink on the map extract.
Both housing areas can be accessed from other roads: the bits of Marsh Lane for Marsh Lane, and Aconite Road or Riversway for the edge of the Lynnsport playing field (green arrows show the ones which appear on the map extract). Those roads all dead-end with no houses across the ends of them, so they could be used as connections. If connections to North Lynn are really needed, it could be done with relatively simple straight crossings of the current path, which I've not mentioned because it's nothing to do with Lynnsport. However, using any existing roads will bring some opposition from people who live on them and so I think riders and walkers are being seen as a soft touch.
I think the housing is expected to be a typical mixed private housing development, which may be why they are trying to link a road that's really for new housing development to the public service of Lynnsport.
The last project outline I saw is on the Norfolk County Council website (PDF), but the online copy is missing the actual drawing 233902-CF-04-002 and the dodgy traffic modelling. They failed to get funding from DfT, but as far as I know, they've just resubmitted the failed bid to the Local Transport Body, which handily is made up of Norfolk County Council, Suffolk County Council and New Anglia Local Enterprise Partnership, two of which already supported the bid to the DfT! We're being stitched up, aren't we?
I read the plans thoroughly, attended meetings about them, responded to DfT pointing out the two dozen errors and flaws in them and I asked a question in a full West Norfolk council about the plans back in April. I feel that the answer I was given was misleading in several ways, ignoring that cycle groups were not consulted before the bid was submitted and that the alternative route reusing the former busway would take Lynnsport delivery lorries into residential areas less than the bid route does!
If anyone wants to discuss this please use the CTC National Cycling Charity Forum page or contact me. Thanks.
Cycling in Parliament
Please would you ask your Member of Parliament to participate in the Get Britain Cycling debate on Monday, September 2 in the House of Commons (the first day back after summer recess)?
The Get Britain Cycling report was welcomed by David Cameron and has backing from Sir Chris Hoy, Laura Trott, Lord Sugar, Sir Richard Branson, Barclays Bank and the CBI among others. Please ask your MP to attend the related debate and discuss how its recommendations could be implemented to help areas like yours.
The MP for North West Norfolk Henry Bellingham told me he "will certainly try my best to attend and speak in this".
Network of local routes
In additional to National Cycle Network Route 1 running through the town (with a need to dismount through a pedestrian section!), the local cycle routes include some fairly fast ones. I think these should be linked into longer routes connecting the town, probably in a "spokes and wheels" arrangement.
Spokes (clockwise from North): NCN 1, Marsh Lane / Seathwaite Road / Sandy Lane, Gayton Road, St Johns Walk / Sand Line Path, Hardwick Road, Hardings Way / Saddlebow Road, NCN1/11, Ferry Road.
Wheels (outwards from centre): Bus Station to Rail Station, South Quay to the Walks via the Market Places, North Lynn / Reffley / Springwood / Fairstead / South Lynn, St Germans / Setchey / Middleton / Roydon / Castle Rising.
Cycling Farcilities: Norfolk's Bad Sign Habit
Despite the generally good network and the adverts for "King's Lynn - a cyclist's dream", there are a few problems with town cycle tracks. Norfolk County Council are a bit too keen on two signs: "Cyclists Dismount" and "End of Route". Sadly, it's common to find these half-way along cycle routes and at other plainly absurd locations, causing confusion and disrespect for them.
St James Lights
I use the stations loop route a lot and the sign confusion is terrible for such a short route. This one's at the crossroads by St James Swimming Pool, on the southern side of the loop. Sorry if the pic is too dark for you: no matter where I stand, some of the lights shine at my camera and confuse it - amazingly, there are 8 sets of lamps facing me, which might be confusing enough for some people.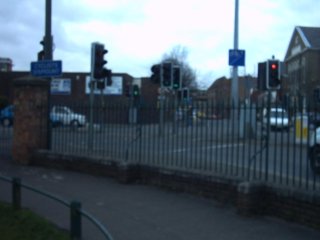 The cycle track runs in front of the wall from right to left, round the pillar at the end, crosses the roads in two parts and joins a cycle lane in Blackfriars Street straight ahead. The three traffic lights nearest the centre of this view are cycle-shaped and you might spot the cycle lane sign up the lamppost on the right. But, behold! What's that above the pillar? Why, it's a "Cyclists Dismount"! No cycling across at the cycle lights, OK? Surely a farcility.
Fix: Remove the dismount, correct the road markings and put some positive directions for cyclists leaving Blackfriars Street, sending them to Waterloo Street. The town centre loop is scheduled for improvement. Email colin.rope at mottmac.com with comments.
Market Lane Parking
This is on the northern side of the loop, but it isn't a sign problem. Cars and vans often park in the Market Lane contraflow cycle lane and put cyclists into oncoming traffic. Admittedly, it's a quiet street, but there are enough car parks available nearby: there are two multi-storeys within about 100m of this street! It seems so inconsiderate to park on the National Cycle Network 1/11. If you park there, I hope you get towed.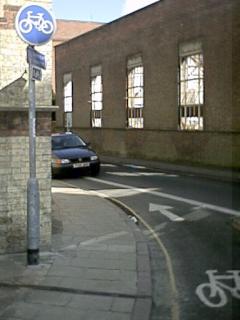 Fix it by enforcing the cycle lane! For a real fix, close the road to cars.
Rail Station Dismount
On the east of the loop, cyclists are signed in both directions along a narrow segregated path for about 10 or 20 metres, to give a shorter route to the station from the Walks. This photo looks north across the station front, towards the Blackfriars Road road-side cycle track. St John's Church is behind us. The loop route joins from the left, across the traffic lights.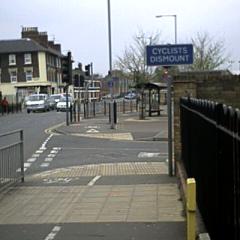 The problem here is yet another Cyclists Dismount sign on the right there. At this point, you're riding from a narrow path to a wide one and you can see more clearly in this direction than the opposite one, which is busier.
Why is this sign there? Maybe it's leftover from when this was the end of route, but then I'd expect to see "End of Route" too (another Norfolk favourite).
Fix it by removing the sign. For a real fix, give the cycle track priority over the car park access, like it should be.
Reffley (end of) Route
Leaving the town centre loop (as I do sometimes!), here's a farce on the Reffley cycle track that illustrates Norfolk's "end of route" mania. In the photo, the path continues south, bending left before joining a small estate road. On the right side of the path is a square "End of Route". A metre or two after that, there's a double-sided round "shared path" sign on the left. The route actually continues all the way to the Hardwick Road industrial area, about 2 miles further on. As far as I can remember, this route never ended here. Confused? This sort of thing happens all over the town.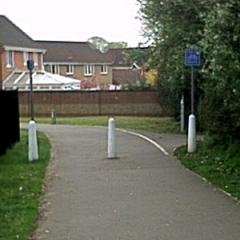 The fix is obvious: remove the post with "End of Route" on it. Well done for keeping most of the bollards out of the byway, though!
Fixed Farcilities
The Hardwick Road (A149 to Hansa Road) cycle track has stopped the north end of the Oakwood Corner cycle route crossing seven lanes of traffic near two major HGV junctions. Unsurprisingly, illegal manoeuvers were common here as cyclists tried to avoid the absurdly dangerous official access to the cycle track. Cyclists can now continue along the south side of Hardwick Road and cross safely at a multi-stage Toucan crossing. There are a few road-track junction irregularities to iron out, but it's a big improvement. The Oakwood Corner cycle route now connects all the way to Boal Quay in the town centre.
Finally, here was a different "End of Route" farce from Hardwick Road. When the South Gates roundabout was rebuilt time before last, cycle tracks were added around the outside, crossing at the islands, and running a short way up each road. The top photo is taken after leaving the roundabout along the south side of Hardwick Road and having crossed the lorry park access. There's no drop kerb and no change in surface, so you'd think the cycle track is continuing onwards. Or, you would until you hit parked cars and no drop kerbs at the end of the next gentle downhill straight.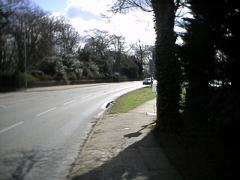 Notice the thin shadow beside the shadow of the leftmost tree? That's the "end of route" sign! On its reverse is the "shared path" sign shown in the second shot. At this point, cyclists are expected to see through a mature tree, bump down a kerb and cross three lanes to rejoin the road. Farcical!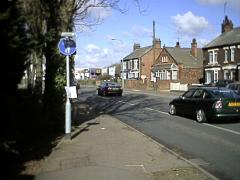 The council fixed it by rebuilding the track until it reached toucan crossings to let cyclists join the forthcoming track along the north side of Hardwick Road.
Other farcilities
Cycling groups active locally
Other useful links
12 Oct 2015 (first few sections), 9 Feb 2017 (links), MJR