MJR: My Software
I use Free Software and you should too. The software available for download below is usually under a Free licence. Please accept the licences... they allow us to build on previous work and exceed what went before, without having to reinvent everything for each project.
If you want to contact me about any of this software, please send me a good email.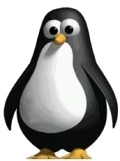 I think that GNU/Linux is the best system currently available. As part of that, I'm involved in the Anglian LUG and try to help further the penguin for the good of humanity. It's been running just over four years.